AIRLINE SUPPLIED
RESPIRATOR C.A.R.T.S.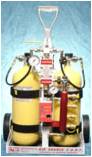 "D" SERIES C.A.R.T. FIXED PRESSURE REGULATOR

"F" SERIES C.A.R.T. ADJUSTABLE PRESSURE REGULATOR
COMBINATION RESPIRATOR AND
PNEUMATIC TOOL SUPPLY C.A.R.T.S.

"D" SERIES COMBI-C.A.R.T.
FIXED PRESSURE REGULATOR

"F" SERIES COMBI-C.A.R.T.
ADJUSTABLE PRESSURE REGULATOR

"FDNY" SPEC C.A.R.T.
ADJUSTABLE PRESSURE
REGULATOR
PNEUMATIC
TOOL SUPPLY C.A.R.T.S.

AIR SOURCE MAX-AIR C.A.R.T.
HEAVY DUTY RED
CUSTOM C.A.R.T. COVER.

C.A.R.T. DUST COVER
Super Can Industries, Inc. was started in September 1984 by two Pennsylvania Fire Chiefs to construct and distribute a new product for the fire service, which they designed and tested.

The new product was a 2.5-gallon fire extinguisher that was converted and improved by the use of fire suppression additives and interchangeable nozzles that drastically increased the effectiveness of a standard water fire extinguisher. This new design permitted the unit to be used for a multitude of task including chimney fires, Class "A'' liquid fires, as well as an increased capability in the extinguishment of Class "A'' fire fighting. This unit was provided with a convenient carrying bag for hands free transportation, as well as the ability to safely climb stairs or ladders with the unit. For many years the standard z2.5-gallon pressurized water extinguisher has been known as the ''can'' of water. Since this new innovation drastically expanded the capabilities of the standard "can'' it become known as the ''Super Can'' and that is where our corporate name comes from. Super Can Industries, Inc. first CEO is one of these two chiefs and he remains the President and CEO to this day. His 19 years as an innovative fire chief has brought about many improvements and safety features that we always incorporate into all of our products.

In early 1989, the president of Super Can Industries, Chief Joe Nelson, was asked to serve as a respiratory protection advisor to the Philadelphia Fire Department as they were in the process of reestablishing Heavy Rescue 1, in their department. Due to the special needs and requirements that heavy rescue operations place on respiratory protection equipment and systems, a comprehensive study was done by Chief Nelson on behalf of the Technical Service Division of the PFD. One of the immediate concerns that surfaced was the lack of commercially available long duration supply systems that met the demands of heavy rescue. Chief Nelson embarked on a design criteria study for designing and building the safest, easiest to use, portable, and operator friendly continuous air resource transport (C.A.R.T.). The design and prototype work took a total of 16 months and the members and officers of the heavy rescue unit assisted in this process. The end result of this task was the Air Source C.A.R.T. Super Can Industries, Inc. introduced many ''first'' in the design and construction of this type unit. They were the first to introduce a two-piece frame assembly. The first to introduce a fail safe, balanced piston type pressure reducer for this type equipment, the first to have both audible and visual warnings on a low air pressure condition, the first to introduce a flexible "main" and "reserve" system for the air supply to the unit to prevent any accidental out of air condition to exist. This unit became the main stay of most metropolitan heavy duty rescue squads, based on it's safety features, it's design features, and it's simplicity of use. Fifteen years after the first Air Source C.A.R.T. was introduced, over 98% of them are still in front line service today. Super Can Industries, Inc. has always designed it's equipment to grow with the need of the fire departments, therefore it never becomes obsolete.
The SCI Air Source® line of carts are available for respirator supply, pneumatic tool supply, and combination respirator and tool supply. The carts feature lightweight aluminum frames, heavy duty cast aluminum telescoping handles, and either our electronic low pressure warning system with LED's or mechanical warning whistles. Some feature detachable main frames for a lower profile, as well as an eyebolt for hoisting or lowering.



MINI MATE

WORKMATE 200

WORKMATE 400

WORKMATE 600

AERIAL AND PLATFORM
DISTRIBUTION SYSTEM