Ferno Tactical Litter
A super-strong, military-style litter designed for Tactical, Hazmat, CBRN Decon, USAR and disaster use.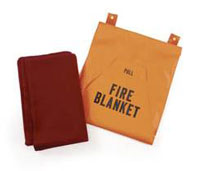 Fire Blanket
Model No. 356
The Fire Blanket is a blend of 70% wool and 30% synthetic fibers and is fire retardant (CS191-53). Also available with a hanging wall case for fast deployment in emergencies.
The Titan Rescue Basket Stretcher is a complete rethinking of the classic Stokes military style stretchers. The top rail is a full one-inch diameter making the stretcher easier to handle when carried for extended periods, and it has been reinforced with double tubing at the head and foot ends for extra strength during vertical raises and lowers. Available in one-piece or two-piece and regular
or tapered models.
Traverse Rescue Stretcher (TRS)
Designed and constructed for both horizontal and vertical casualty evacuations. The lightweight and compact roll-up design makes this stretcher ideal for high angle and confined space rescue, as well as backcountry wilderness and helicopter operations. The wrap-around concept gives the patient a feeling of security and protects arms and sides from further injury during evacuation procedures.

Large Rigid One-Sided Hazmat Tactical Board
This command board is made from a rigid, lightweight plastic and printed with HAZMAT TACTICAL COMMAND SHEET. The set includes two water-based pens and one dry-erase marker.The command sheets are printed on heavy paper stock and laminated for protection. Available in two sizes: 36" x 24" (large - oversized UPS item) or 24" x 18" (small).
Today, Ferno Canada is more than EMS. An affiliate of Ferno Washington, a global leader in the manufacturing and distribution of pre-hospital patient-handling equipment, the company has diversified into Emergency Preparedness - Mass Casualty Incident and Search and Rescue markets. Partnering with other corporate divisions has enabled the Company to become one of the leading producers and distributors of HazMat/Chem-Bio Decontamination and Containment Systems, Incident Command-Management Systems and Specialized Disaster Medical Equipment for Mass Disasters, Urban Rescue, Tactical Operations, Water and Confined Space Rescue as well as education programs and materials for each of these. Over the Company's last 10 years in Canada, we've recognized our customer's interest in independent product verification. We strongly support the creation and maintenance of national standards for each profession; both by volunteering our time and by making sure that a wide selection of our products are certified. By listening to customer feedback and gaining field experience, we continue to improve existing designs and develop new products and training procedures. We're committed to making our customers - EMS, Fire, Emergency Preparedness and Search and Rescue more effective and safer. After serving the emergency medical profession for over 40 years, Ferno will continue to research, improve and expand its broad emergency preparedness, mass casualty and search and rescue equipment line to our current as well as new customers. Ferno Canada truly is more than EMS and welcomes the opportunity to put its partnering and solutions to work with you.
Deluxe Title Panel Vest
Deluxe Title Panel Vests feature front and back, interchangeable, Velcro™ title panels to offer greater flexibility on-scene. The titles are screen printed with bright, white ink on a black panel in large lettering for easy identification and excellent day or night visibility. Open front with hook-and-loop closure vests with adjustable side buckles and 3M reflective Scotchlite striping on front and back for added visibility. Front panels measure 8" x 8", back panels measure 13.5" x 9".A wide variety of Title Panels are available.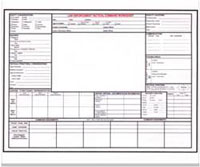 Law Enforcement Board
Law Enforcement Sheets and Boards are ideal for use at a variety of law enforcement operations such as tactical incidents, searches, special events, and more. They are also ideal for preplanning special operations and events.
Model 107-C Stretcher/Chair
Ferno Combination Stretcher Chairs are designed to serve as three patient handling devices in one: a wheeled chair, a stair chair and a flat stretcher.

SAR BackPack Portable Kit
The Complete SAR BackPack Portable Kit combines all the great features of the Kigali Series backpack with a quality Spiracle oxygen delivery system. A strong, lightweight DD-Lite carbon fiber oxygen cylinder with BRAVO2 oxygen regulator are held
in place by a large sleeve with retaining strap inside the backpack's main compartment.
Ferno Rescue Emergency Dummy (F.R.E.D.)
The Ferno Rescue Emergency Dummy (F.R.E.D.) is the
ideal training aid to simulate the handling and carrying of a person during rescue situations. The dummy can be filled with a sand/sawdust mixture up to 121 lbs. to simulate the weight of an adult. F.R.E.D. is made from heavy duty, rip-stop PVC with heavy duty stitching which is UV resistantand water repellant. Foot heels are re-enforced for dragging and a ring of velcro on the abdomen section and hands helps keep FRED secured when being moved.
---

SKEDCO STRETCHERS