SLIP ON UNIT FOR ATVs, TRUCKS
and TRAILERS.

This unit can be used as a fire suppression unit flowing water only or water and foam onto structural fires, car fires, wildfires, relay pumping or as an EMS unit. It can be easily carried in a small pick-up truck, ATV or trailer. Carries 75 gallons of water and has storage compartments for brooms, axes etc. for wildfire application. This unit will definitely be convenient in festivals, crowds, industrial plants, camp sites, bicycle path etc.

Transform the TWIN PACK into the MEDIC TWIN PACK. Remove the bottom and top compartments only of the Twin Pack and add the stokes basket and the seat option. This unit has a total of 22 cu/ft. of storage.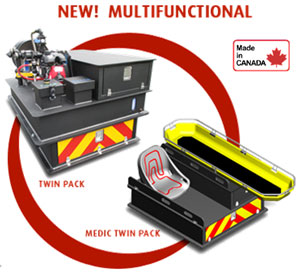 In addition to the slip on Fire Suppression units shown above, Brayneck Canaplast manufactures in Canada, a full range of Fire Truck Tanks to your custom specifications.
700 Gallon tank with ladder tray and compartment
750 Gallon tank with foam compartment and ladder tunnel
3000 Gallon tank with compartment
300 Gallon tank With 10 gallon foam compartment